Archery is proven to improve health and well-being. It builds confidence and self esteem, increases focus and patience, and reduces stress. It's also a fun and accessible sport, available to all ages, and all levels of physical fitness and ability.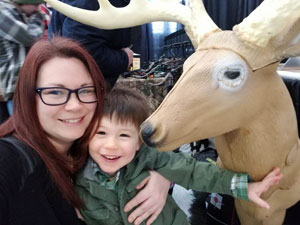 Lana Perry is an NCCP/Ontario Association of Archers trained coach and instructor who works with beginner, intermediate and competitive archers. She has training with regards to:
Coaching Athletes with a Disability
Physical Literacy for Women 55-70+
Basic Mental Skills
Coaching and Leading Effectively
Prevention of Injury and Recovery
Making Ethical Decisions
Nutrition
Fundamental Movement Skills
Coach Initiation in Sport
Concussion Training
Lana also continues to train and compete herself and has attended two World 3D Championships.
Lessons are offered in Compound, Recurve, or Longbow styles.
Please advise the instructor should you have special requirements and they will be happily accommodated.
Lessons are held at Algoma Rod and Gun Club, 226 Connor Rd
Private Lessons $30/Hr
2 Person Lesson $50/Hr
3 Person Lesson $70/Hr
90 Minute Private Group Lesson or Birthday $20/Person ($100 Minimum)
6 Week Group Lesson sets are $100 per person (max 10 students) 
Upcoming 6 Week Group Lesson Dates (Subject to Change):
All Ages
Dates to be announced pending Phase 3 of Reopening
INTERMEDIATE: 5:30-6:30pm
All Ages
Dates to be announced pending Phase 3 of Reopening
BEGINNER: 6:30-7:30pm
INTERMEDIATE: 7:30-6:30pm
COMPETITIVE: 7:30-8:30
Ladies Age 13+
Dates to be announced pending Phase 3 of Reopening
5:30-6:30pm
Contact Lana to sign up This email address is being protected from spambots. You need JavaScript enabled to view it. 705-942-2154, 705-759-8346