It started with a passion for firearms, hunting, and a handful of firearms for sale in the basement of a house in Sault Ste Marie, Ontario. Started by Jane and Reg Perry, now joined by daughter Lana, the business has been proudly family owned and operated for over 30 years.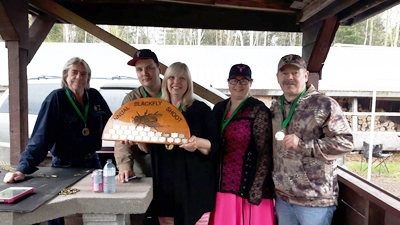 We pride ourselves on fair prices, and will price match our competitors.
We are proud members of Algoma Rod and Gun Club, St Josephs Island Hunters and Anglers, Canadian Sporting Arms and Ammunition Association, Firearms Safety Education Service of Ontario, Ontario Federation of Anglers and Hunters, Ducks Unlimited.
Perrys' will buy/sell/trade/repair firearms and bows. Reg is a very knowledgeable gunsmith with affordable rates for repair. We also do routine work such as mounting and bore sighting scopes, sighting in guns, and cleaning. Our two bow technicians, Lana and Dwayne have years of experience working on bows of all styles and vintage. We can also custom build arrows to your desired length, colour, and style of shooting.
Perrys' is pleased to offer a wide variety of products by all the major manufacturers, for a number of different shooting disciplines such as handgun, shotgun, or small and large bore rifle. Perrys' caters to hunters, recreational shooters, and tactical shooters. There are firearm brands such as Browning, Remington, Winchester, Tikka, Sako, Weatherby, Savage, Ruger, Mossberg, CZ, Smith and Wesson, Revolution Armory, Charles Daly, Chiappa, Marlin, Henry, and more. We stock all of the accessories you may need for all of your hunting or shooting desires. And if we don't have a product in stock, we're happy to order it in for our customers.
You may even catch one of our staff shooters at tournaments anywhere from local to world level competition! Staff shooters include Lana Perry in Archery, Dwayne Deevey in Archery, Bud Gagnon in Pistol and 3-Gun, and every year Perrys puts together a staff team to compete in the Wawa Blackfly shoot hosted by Michipicoten Rod and Gun Club.